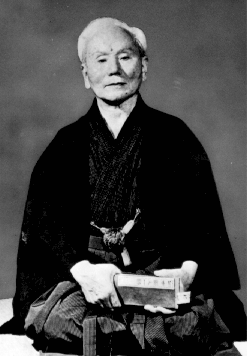 Innen karate finnes det mange stilarter.
De forskjellige stilartene er dannet ut fra forskjellige skoler. Shotokan Karate er verdens største stilart og klubber finnes i de fleste land. Stilarten er kjent for sin estetiske form og kraft.
Gichin Funakoshi (bildet) regnes som grunnlegger av stilarten. Han ble født i 1868 i Shuri som da var hovedstaden i Okinawa.
Han begynte å trene under en karatemester som het Yasutsune Itosu.
Den gang var han en liten og svak gutt, men han utviklet seg til å bli en karateka (utøver) med bra fysikk og sterk psyke.
Funakoshi hadde sin første offentlige karateoppvisning i Kyoto i Japan i 1917.
Fire år senere flyttet han til Japan og ikke lenge etter åpnet han en dojo der. Funakoshi var veldig fokusert på kata (mønster) som veien å gå for å bli en god karateutøver. Ikke alle var enige med han om det og flere elever forlot ham og dannet andre skoler.
Funakoshi var en fredens og ydmyk mann og døde i 1957 i en alder av 88 år. Han regnes som mesteren over alle mestere.
The Ultimate Aim of Karate-do:
«The Ultimate aim of Karate lies not in victory or defeat, but in the perfection of the character of the participant.»
The 20 preceps of Karate

1.        Never forget: karate begins with rei and ends with rei (Rei means courtesy or respect, and is represented in karate by bowing)
2.        There is no first attack in karate
3.        Karate supports righteousness
4.        First understand yourself, then understand others
5.        The art of developing the mind is more important than the art of applying technique
6.        The mind needs to be freed
7.        Trouble is born of negligence / ignorance
8.        Do not think karate belongs only in the dojo
9.        Karate training requires a lifetime
10.        Transform everything into karate; therein lies its exquisiteness
11.        Karate is like hot water, if you do not give it heat constantly, it will again become cold water
12.        Do not think that you have to win, rather think you do not have to lose
13.        Transform yourself according to the opponent
14.        The outcome of the fight depends on one's control
15.        Imagine one's arms and legs as swords
16.        Once you leave the shelter of home, there are a million enemies
17.        Postures are for the beginner; later they are natural positions
18.        Perform the kata correctly; the real fight is a different matter
19.        Do not forget control of the dynamics of power, the elasticity of the body and the speed of the technique
20.        Apply the way of Karate to all things. Therein lies its beauty.
Under ser du dojo-kun , som er fem likeverdige regler for en karateutøver: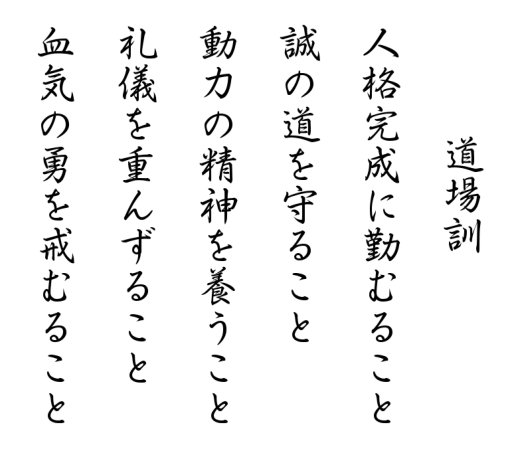 Hitotsu! Jinkaku Kansei ni Tsutomuru Koto!
One! Seek Perfection of Character!
En. Perfeksjoner din karakter!
Hitotsu! Makoto No Michi O Mamoru Koto!
One! Defend the Path of Truth!
En. Vær ærlig og oppriktig!
Hitotsu! Doryoku No Seishin O Yashinau Koto!
One! Endeavor to Excel!
En. Vær utholdende!
Hitotsu! Reigi O Omonzuru Koto!
One! Display Courtesy!
En. Respekter andre!
Hitotsu! Kekki No Yu O Imashimuru Koto!
One! Refrain from Violent Behavior!
En. Unngå voldelig oppførsel!